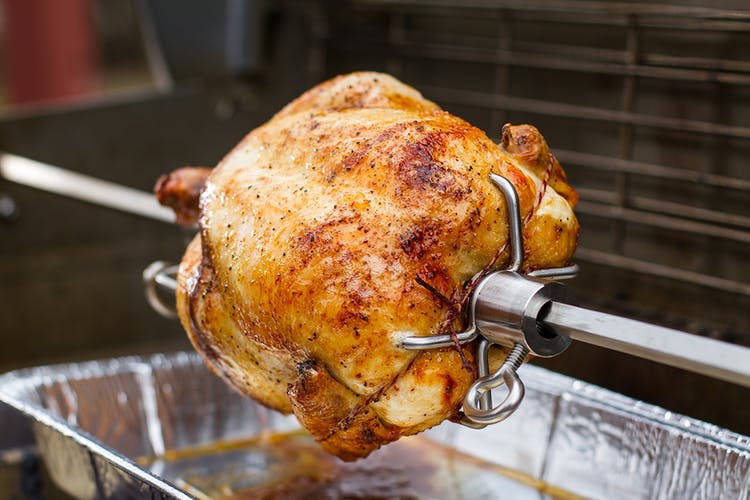 Back to All Recipes
Rotisserie BBQ Chicken
There's' something special about a rotisserie chicken, as it spins and cooks it is self-basting, creating the most succulent meat. What makes this even more finger-licking good is the addition of our Weber Barbecue Seasoning- deliciously seasoned, savoury and a touch of warmth.
Ingredients
2 kilograms whole chicken

2 teaspoons extra-virgin olive oil

4 teaspoons Weber Barbecue Seasoning
Instructions
Prepare the barbecue for indirect cooking over medium heat (190°C-230°C) with a rotisserie. Follow your rotisserie's user guide for specific set up instructions.

Truss the chicken with cooking string, ready for the rotisserie rod.

Lightly coat the chicken with olive oil and season all over with the Weber Barbecue Seasoning.

Slide one rotisserie fork onto the rotisserie rod, with the tines facing inwards. Slide the chicken onto the rotisserie rod, as close to the centre of the rod as possible and gently push the chicken onto the fork tines until they are deep inside. Add the other fork onto the rod, with the tines facing inward, push the fork firmly into the chicken. Centre the chicken on the rod and tighten the forks.

Once the barbecue has preheated, set the rotisserie rod in place. Turn on the rotisserie motor and ensure it is smoothly rotating. Roast the chicken over indirect medium heat, with the lid closed, until an instant-read thermometer inserted into the thickest part of the breast (not touching bone) registers 71°C, approximately 1 ½ hours.

Wearing heatproof gloves, carefully remove the spit from the barbecue. Loosen the forks and slide the chicken off the spit and onto a board. Leave the chicken to rest for 15 minutes before carving to allow the temperature to reach 74°C and for the juices to redistribute, resulting in a juicier chicken.

Carve and enjoy.
Recipe Tips:
For best results, use a meat thermometer to know when your chicken is ready. Insert the probe deep into the breast, but not touching the cavity. You can remove the chicken from the barbecue once is reaches 71C and leave to rest for 10 to 15 minutes before carving, the temperature will continue to rise 3 to 6 degrees to the final safe cooking temperature of 74°C for poultry.