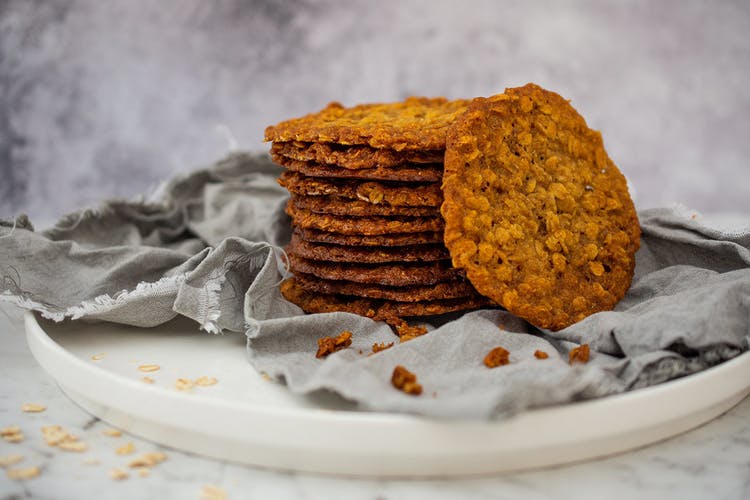 Back to All Recipes
ANZAC BISCUITS
Ingredients
2 cups rolled oats

1 cup plain flour

⅔ cup caster sugar

¾ cup desiccated coconut

½ cup golden syrup

125 grams unsalted butter

1 teaspoon bicarbonate of soda

2 tablespoons hot water
Instructions
Set up your barbecue for indirect cooking. Please refer to your handbook for further instructions.

Line two baking trays with baking paper. In a large bowl combine the oats, flour, sugar, and coconut. Make a well in the centre.

Preheat your barbecue for baking.

Place the golden syrup and butter into a microwave safe jug and microwave until the butter is melted and the golden syrup is bubbling, about 2 minutes. In a separate small bowl mix the bicarbonate of soda and hot water; stir until dissolved. Add the bicarbonate of soda mixture to the golden syrup and melted butter (be careful as the mixture will bubble and foam.

Straight away pour the golden syrup mixture into the centre of the oat mixture. Mix to combine. Spoon approximately 1 tablespoon-size balls onto the baking paper, allowing room to spread. Gently press down on the balls to create 5cm rounds.

Once the barbecue has preheated, make adjustments to the burner control(s) if required. Place the biscuits on and cook until deep golden, 7 to 8 minutes. Once the biscuits have cooked, allow them to cool for 5 minutes on the tray before transferring to a wire rack to cool completely.