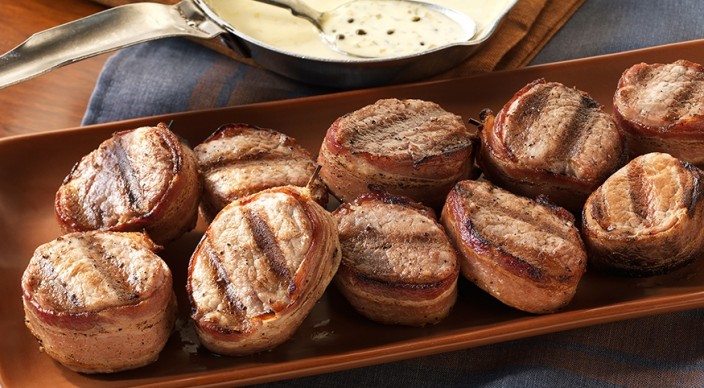 Back to All Recipes
Bacon-Wrapped Pork Tenderloin with Green Peppercorn Sauce
Serves: 4 // Prep time: 25 minutes | Grilling time: 10 to 13 minutes | Special equipment: toothpicks
Ingredients
2 pork tenderloins, each about 1 pound, silver skin and excess fat removed
8–10 slices bacon (not thick cut)
Kosher salt
Freshly ground black pepper
SAUCE
1 tablespoon unsalted butter
⅓ cup minced shallots
2 tablespoons dry or brine-packed green peppercorns, drained, if necessary
2 fluid ounces brandy
⅔ cup heavy whipping cream
¼ cup low-sodium beef broth or stock
Instructions
the tenderloins crosswise into 1½- to 1¾-inch long pieces (you should have 8 to 10 pieces total). Gently press down onto each piece to form a disc that is the same thickness as the width of a bacon slice. Wrap a bacon slice around the circumference of each piece of pork and secure it with a toothpick. (Trim the bacon if it overlaps by more than 1 inch.) Season the cut sides of the pork evenly with 1 teaspoon salt and ½ teaspoon pepper.
Prepare the grill for direct and indirect cooking over medium heat (350° to 450°F).
In a skillet over medium heat, melt the butter. Add the shallots and cook until slightly softened, 2 to 3 minutes, stirring often. Add the green peppercorns and stir for 1 minute. Add the brandy, ½ teaspoon salt, and ¼ teaspoon pepper; increase the heat to medium-high and cook for 1 minute, and then add the cream and broth. Swirl to combine, and then simmer until the mixture thickens to a sauce consistency and is reduced to about ¾ cup, 3 to 5 minutes more. Cover and set aside.
Grill the pork over direct medium heat, with the lid closed, until the meat is barely pink in the center and the bacon is fully cooked, 10 to 13 minutes, turning once. During the last few minutes of grilling time, turn the discs of pork on their sides to cook and crisp the bacon directly on the cooking grate (if flare-ups occur, move the pork temporarily over indirect heat). Remove the toothpicks. Serve the pork warm with the sauce spooned on top.