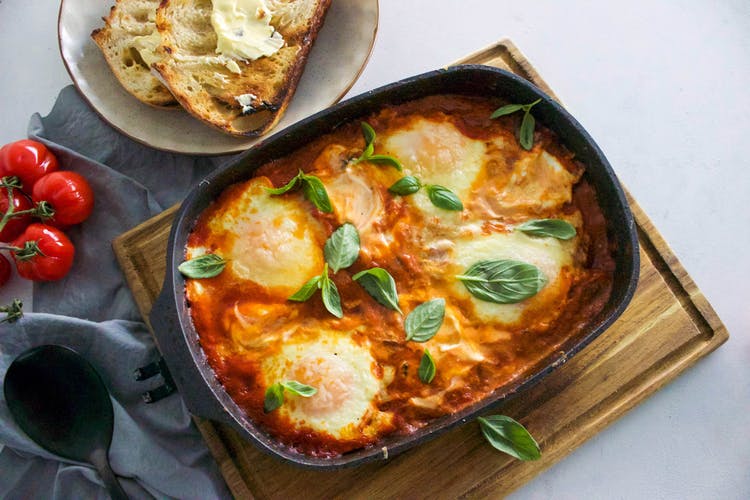 Back to All Recipes
BAKED EGGS WITH RICOTTA
This hearty breakfast or lunch recipe is packed with flavour. Use the crusty grilled bread to dip into the rich, grilled tomato sauce and soft eggs poached in the tomato sauce.
Ingredients
250 grams cherry tomatoes

2 tablespoons olive oil, plus extra

Sea salt

Freshly ground black pepper

400 grams tin crushed tomatoes

1 garlic clove, finely chopped

4 eggs

4 tablespoons ricotta

2 tablespoons grated Parmesan

Slices of bread (e.g. sourdough)

2 tablespoons fresh basil or oregano leaves, chopped, plus extra to garnish
Instructions
Prepare the barbecue for direct cooking over medium heat (180°C to 230°C).

In a small Q ware pan, add 2 tablespoons of olive oil and the garlic. Lightly coat the cherry tomatoes with olive oil, salt and pepper.

Once the barbecue has preheated, add the frying pan and the cherry tomatoes to the barbecue and cook over direct medium heat for 5 minutes or until the garlic has turned golden. Once golden, add the tin of crushed tomatoes to the pan. Flip the cherry tomatoes, and cook the cherry tomatoes and sauce for a further 5 minutes.

Add the cherry tomatoes to the frying pan (removing any stalks if needed), stir and continue to cook for a further 15 to 20 minutes, stirring as needed, or until the sauce has reduced.

Season the sauce with salt and pepper. Add the fresh basil or oregano leaves and stir. Dollop the ricotta onto the sauce. Using a spoon, make 4 divots into the sauce. Crack an egg into each divot. Sprinkle the grated parmesan all over. Close the barbecue lid and cook for a further 10 minutes, or until the eggs are slightly underdone to your liking. While the eggs are baking, toast the bread. Brush olive oil onto the bread. Brush the cooking grill clean with a wire brush. Grill the bread over direct medium heat for approximately 1 to 2 minutes on each side.

Remove the frying pan from the barbecue and leave to sit for a couple of minutes (your eggs will continue to cook). Garnish with fresh basil or oregano and serve with the crusty bread.