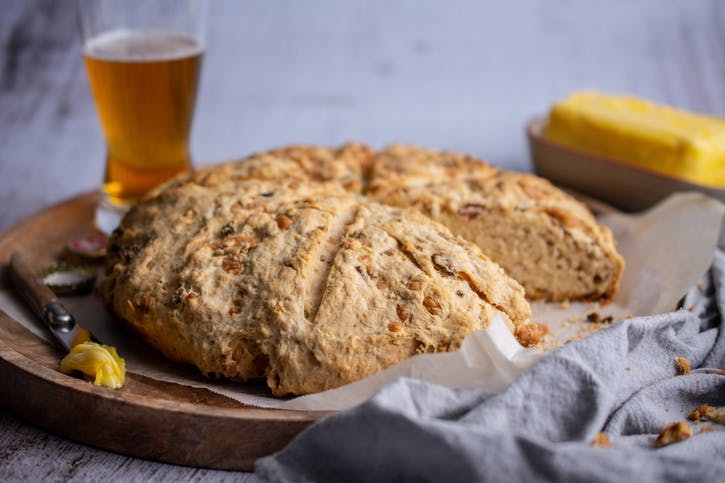 Back to All Recipes
BEER, BACON AND CHEESE DAMPER
Soft on the inside, golden, crunchy and crumbly on the outside – the best of both worlds! Flavour packed with beer, bacon and cheese. This damper may not be traditional, but a single bite will leave you wanting more.
Ingredients
3 cups self-raising flour

1 teaspoon baking powder

1 teaspoon sea salt

100 grams butter, cold, roughly chopped, plus extra to serve

300 millilitres pale ale beer

1 cup grated cheese

1 cup bacon, finely chopped

1 tablespoon butter, melted
Instructions
Prepare the barbecue for indirect cooking over medium-low heat (170°C to 190°C). If using a Weber Q® barbecue, set up your barbecue with a convection tray and a trivet.

In a large bowl, combine the flour, baking powder and salt. Add the 100g butter and rub the butter into the flour with your fingertips, until the mixture resembles fine breadcrumbs. Alternatively use a food processor.

Make a well in the centre of the flour mixture and add the beer. Using your hands, combine the mixture until it has mostly formed into a dough. Add the cheese and bacon and continue to combine with your hands until the cheese and bacon is just mixed through. Form the dough into a ball and place onto a lined baking tray. Flatten the dough out into a circle, approximately 3cm thick. Using a sharp knife, score the top of the dough. Using a pastry brush, brush the melted butter on top of the dough.

Bake the bread over indirect medium-low heat, with the lid closed, until the top is golden, and the bread sounds hollow when tapped on the bottom, about 50 minutes.

Leave the bread to cool for 5 minutes before cutting. Serve with butter.
Tips
To speed up the preparation time, you can make the dough in a food processor.

Don't overwork the dough, as it may result in a tough dough.

You can use a meat thermometer to judge when the bread is cooked. When the bread reaches an internal temperature of 90°C it is ready.