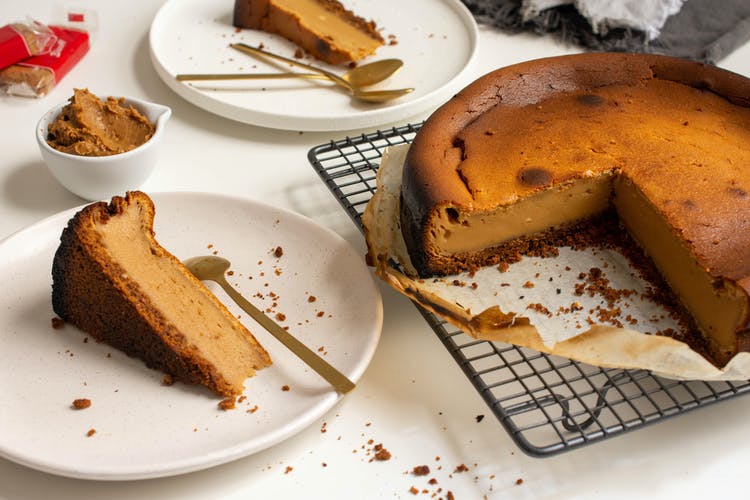 Back to All Recipes
BISCOFF BASQUE CHEESECAKE
Basque translates to 'burnt' because you bake this cheesecake at a high temperature, the outside darkens before the inside cooks- leaving you with a bitter-sweet outer and a soft, creamy cheesecake inside, it also means it's hard to stuff up! Our twist includes Biscoff biscuits (for a non-traditional biscuity base) and of course Biscoff spread throughout the cream cheese mix. Not too sweet, delightfully creamy and a lot of fun to eat!
Ingredients
200 grams Lotus Biscoff biscuits

1 small lemon, zested

80 grams butter, melted

500 grams cream cheese, room temperature

150 grams (3/4c) cups caster sugar

250 grams Lotus Biscoff Spread

3 eggs, lightly whisked, room temperature

250 millilitres cream, room temperature

½ teaspoon fine sea salt
Instructions
Prepare the barbecue for indirect cooking over medium heat (roast setting-200°C-230°C).
Spray a 25cm diameter springform cake tin with a little cooking oil spray or melted butter. Line the tin with baking paper, ensure that the height of the paper is not greater than 1cm over the top of the tin. Use a food processor or place the biscuits into a large zip lock bag and crush the biscuits into crumbs. Pour the biscuit crumbs into a bowl, add the zest from a lemon and the melted butter. Mix until well combined. Pour into the lined cake tin and press to compact the base.

In the bowl of a stand mixer or using electric beaters, beat the cream cheese and caster sugar for 4 minutes on medium speed, or until light and fluffy. Gradually add the Biscoff spread and keep mixing to combine. Slowly pour the lightly beaten eggs into the cream cheese mix, ensuring that it is well incorporated before continuing to add more egg. Once just combined, avoid beating the mixture much more. Slowly add the cream and finally the salt. Once the ingredients are smooth and combined stop beating and pour the mix into the cake pan.

Once the barbecue has preheated, bake the cheesecake over indirect medium heat, with the lid closed, for 30 to 45 minutes, or until the mix is just set and the top has coloured. Once finished cooking (if possible) turn the barbecue off and leave the cheesecake to cool in the barbecue for 30 minutes (to prevent cracking from temperature shock).

Leave the cheesecake to cool completely before serving. Once cooled, refrigerate to store the cheesecake. Best to bring to room temperature when you are ready to serve.
TIps:
Have your cream cheese, eggs and thickened cream at room temperature, it will result in a silky cheesecake mix with no lumps.
Once the egg has been added to the cheesecake mix, avoid beating much further. If you overbeat the eggs in the mixture, it can cause the cheesecake to split.
If you are making the cheesecake for the following day, add 1 tablespoon of sifted plain flour to the cheesecake mix to avoid weeping when refrigerated.