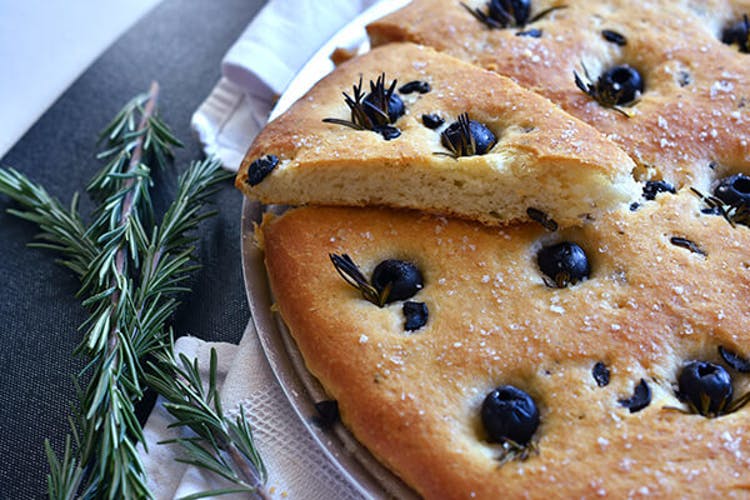 Back to All Recipes
BLACK OLIVE AND ROSEMARY FOCACCIA
Ingredients
2 teaspoons honey

7 grams dry yeast

1 cup luke warm water

2¼ cups strong plain flour

¾ cup semolina, ground

1 teaspoon sea salt

¾ cup olive oil

1 teaspoon rosemary, chopped

½ cup black olives, roughly chopped
TOPPING
2 tablespoons olive oil, divided

4 sprigs rosemary

20 pitted black olives (approx.)

1 teaspoon sea salt flakes, extra
SPECIAL EQUIPMENT
Instructions
In a jug combine the honey, yeast, and warm water. Stir gently, and then set aside until the mixture is frothy, about 10 minutes.

Sift the flour, semolina, and 1 teaspoon salt into a large bowl of a stand mixer with a dough hook. Pour in the yeast mixture and the olive oil. Set the mixer on low to combine the mixture into a soft dough. Knead in a mixer for 10 minutes or turn out onto a lightly floured surface and knead by hand until the dough is smooth and elastic, 10 to 15 minutes. The dough will be quite wet. Place the dough into a lightly greased bowl. Cover with plastic wrap and place in a warm, draught-free area until the dough has doubled in size, about 1 hour.

Turn the dough out onto a lightly floured surface. Knock the air out of the dough. Add the chopped rosemary and olives. Knead until smooth.

For maximum air bubbles (optional): Form into a rectangle approximately 12cm x 30cm. Fold the top third into the centre, then fold the bottom third up over the previous fold. Quarter turn the dough (to the left or right) and again form into a 12cm x 30cm rectangle and fold as before.

Pour 1 tablespoon of the olive oil onto the serving tray of a large pizza stone. Place the dough on to the tray and press into shape. Cover with greased plastic wrap and place in a warm, draught-free area to prove for 40 minutes or until the dough has again doubled in height.

Set up your barbecue for indirect cooking with a convection tray, trivet, and large pizza stone. Refer to your Weber Q Pizza Stone handbook for further instructions. Preheat your barbecue for cooking with a pizza stone.

Use your finger to create 20 dimples in the dough. Remove the leaves from the rosemary sprigs and place small bunches of the rosemary and an olive into each dimple. Brush the dough with the remaining 1 tablespoon of olive oil and sprinkle all over with the sea salt flakes.

Once the barbecue has preheated, cook the focaccia on the pizza stone until golden and sounds hollow when tapped on the base, 20 to 25 minutes.