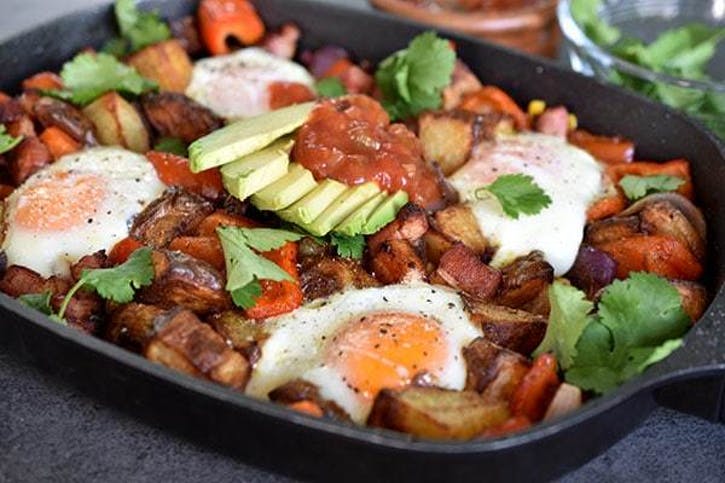 Back to All Recipes
BREAKFAST HASH
Ingredients
280 grams speck, cut into 1.5cm cubes

1½ cup cooked potatoes, cut into 2cm cubes

½ teaspoon cumin

½ teaspoon paprika

2 tablespoons olive oil

1 cup diced vegetables, such as capsicum, onions, mushrooms, etc.

1 ear fresh corn, kernels only

4 eggs

3 tablespoons fresh parsley or coriander, roughly chopped

1 avocado, diced

3 tablespoons your favourite salsa
Instructions
Prepare the barbecue for direct cooking over medium heat (180-230°C) and preheat a Weber large frying pan for 10 minutes.

Saute the speck over direct medium heat for 5 minutes or until crispy. Remove the speck from the frying pan onto paper towel with a slotted spoon, leaving fat behind.

Place the cooked cubes of potato, cumin and paprika into the frying pan and cook for 10 minutes or until golden and crispy, you may need to add a dash of olive oil.

Remove the potatoes from the pan and set aside. Add two tablespoons of olive oil and add the vegetables, sauté for 5 minutes. Add the potatoes and speck back to the frying pan and toss to combine.

Prepare the barbecue for indirect cooking over medium heat (180-230°C). If using a Weber Q barbecue, set up your barbecue with a convection tray and a trivet. Crack the eggs on top of the potato mixture and continue to cook over indirect medium heat for 10 to 15 minutes or until the eggs are cooked to your liking.

Remove the frying pan from the barbecue and top with the parsley (or coriander), avocado and salsa.