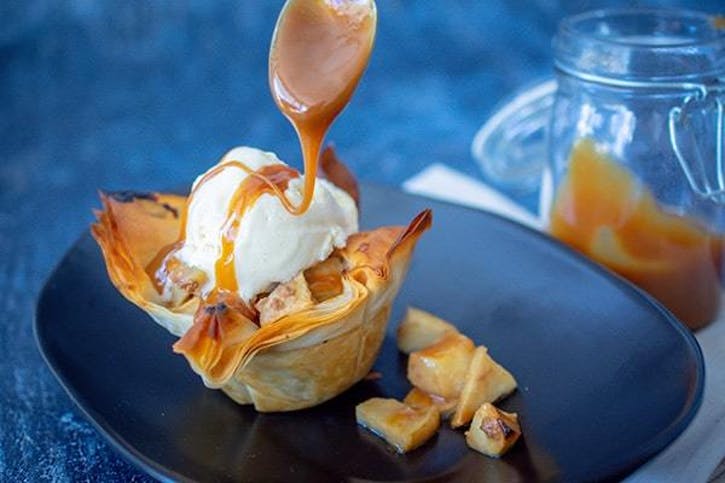 Back to All Recipes
CARAMEL APPLE PIES DIFFICULTY
Ingredients
8 tablespoons caramel sauce (dulce de leche)

1 tablespoon brandy (optional)

6 medium green apples, peeled, roughly chopped into 1cm cubes

12 sheets filo pastry

80 grams unsalted butter, melted

Ice cream or whipped cream
Instructions
Prepare the barbecue for indirect cooking over medium-low heat (170° to 190°C). If using a Weber® Q barbecue, set up your barbecue with a convection tray and a trivet.

In a medium bowl mix together the caramel sauce and brandy. Add the apples and toss to coat evenly in the caramel.

Lay out one sheet of filo pastry. Cover the remaining pastry with a dry and clean tea towel to prevent drying out. Lightly brush the sheet of pastry with melted butter. Lay a second sheet of pastry over the buttered pastry. Again, brush with butter and keep layering the pastry until the pastry is six sheets thick, brushing with butter each layer. Cut the pastry into six equal squares. Place each square into the hole of a muffin tray. Repeat this process to create the six remaining pastry cases.

Fill each pastry case with the apple mixture, filling to the top as the apples will slightly reduce.

Bake the apple pies over indirect medium-low heat, with the lid closed, until the pastry is golden brown, 25 to 35 minutes.

Once cooked, remove the muffin tray from the barbecue, allow to cool for a couple of minutes. Carefully remove each pie from the tray with a butter knife. Serve warm or at room temperature with ice cream or whipped cream.