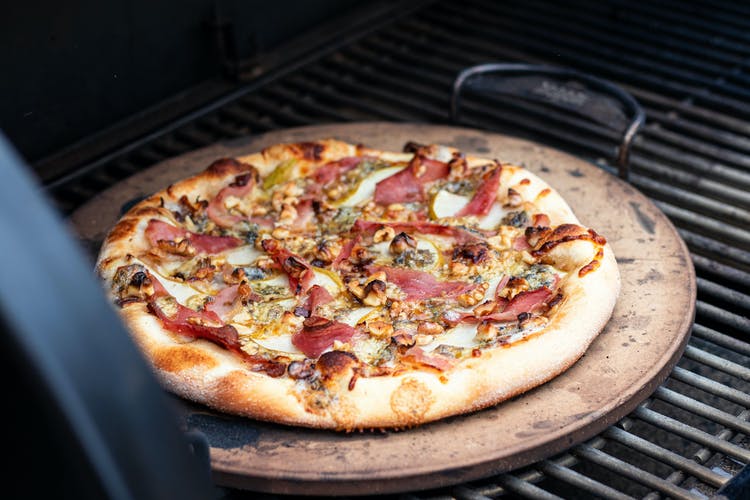 Back to All Recipes
CARAMELISED ONION, PEAR, BLUE CHEESE, AND PROSCIUTTO PIZZA WITH WALNUT AND ROCKET
This recipe is definitely one for those that like a bit of decadence in their life, and are not shy to top their pizza with some rich, salty and vibrant flavours that with pack a punch to the palate! Sweet caramelised onion is topped with crisp pear, and draped with salty prosciutto, before being scattered with buttery blue cheese and walnuts. Once grilled to bubbling perfection, a handful of rocket is added to give an earthy freshness to this indulgent pizza!
Ingredients
1 x portion of prepared pizza dough, or premade pizza base

1 tablespoon caramelised onion relish

¼ cup grated mozzarella

½ pear, thinly sliced

50 grams prosciutto

30 grams blue cheese, roughly crumbled

1½ tablespoon chopped walnuts

Fresh rocket, to garnish
Instructions
Prepare grill for high heat indirect grilling. 300C

Place pizza stone in grill, and heat stone for a minimum 20 minutes.

If using fresh pizza dough, roll or stretch in to a circle slightly smaller than the size of the weber GBS pizza stone.

Spread pizza based with caramelised onion relish, then sprinkle with grated mozzarella

Place sliced pear over pizza, then scatter prosciutto strips roughly over the top.

Scatter crumbled blue cheese and chopped walnuts over the top.

Place pizza on cooking stone, close lid and cook for 10 minutes or until the pizza base is crispy and cooked through.

Scatter the cooked pizza with fresh rocked, and serve.