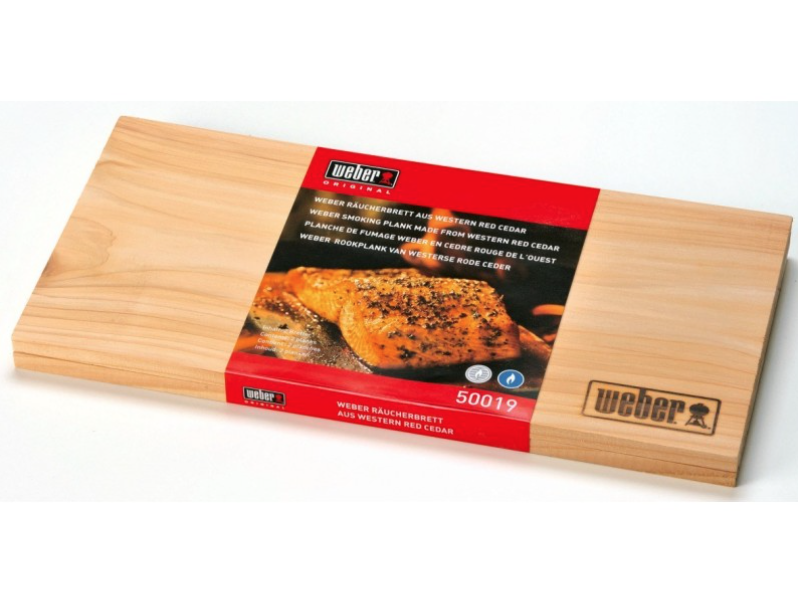 Back to All Recipes
Cedar Plank Salmon
Create succulent salmon on the NEW Weber Cedar Planks.
Ingredients
1 Fillet Salmon with skin on one side
1 Weber Cedar Plank
1 Lemon squeezed
2 Tbsp. Melted Butter
Peel of Lemon grated and set aside
Few sprigs of Dill chopped
Salt & Pepper
Instructions
Soak the Weber Cedar Plank in Water or Dry White Wine overnight.
Lay Salmon fillet on the plank, skin side down
Combine Melted Butter & Lemon Juice and brush over the Fillet. (*Tip – mixing the warm melted butter & lemon juice will ensure both flavours stay on the salmon not on the grill!!!)
Sprinkle with dill & lemon peel then season with salt & pepper to taste.
Heat your Weber to HIGH then place the Cedar Plank with the prepared Salmon directly on the grill. Reduce heat to MEDIUM. Shut the lid and bake for 20 minutes.
The Salmon will be beautifully moist, with a hint of cedar. Great served with Grilled Asparagus spears and a Wild Rice Pilaf. Enjoy!!!