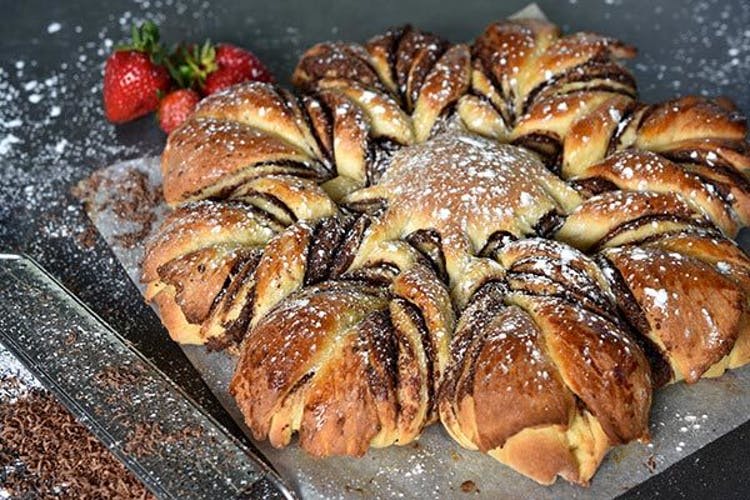 Back to All Recipes
CHOCOLATE BRIOCHE STAR
Ingredients
½ cup warm milk

3 tablespoons caster sugar

3 teaspoons dry yeast

3 cups bread flour

½ teaspoon salt

4 eggs, lightly whisked

140 grams unsalted butter, softened

200 grams Nutella or chocolate spread

100 grams dark chocolate, grated

1 egg yolk, for glaze

1 tablespoon water, for glaze

Icing sugar
Instructions
In a jug combine the warm milk, sugar, and yeast. Stir gently and set aside in a warm place until the mixture is frothy, 5 to 10 minutes.

Sift the bread flour and the salt into a large bowl or bread maker. Create a well in the centre, pour in the yeast mixture and eggs. Use a flat-bladed knife to combine the mixture into a soft dough (mixture will be sticky). Knead for 5 minutes.

Add the butter in three portions and knead for 15 minutes. Transfer dough to a greased bowl, cover in plastic wrap, and let stand in a warm environment for 1 hour or until doubled in size.

Knock back the dough and divide into four portions; place onto four squares of baking paper. Roll the four portions into 25cm diameter circles. Spread the Nutella on three of the circles, leaving a 2cm border. Sprinkle the dark chocolate on the Nutella.

Start with the plain circle on the bottom, place onto a baking tray. Flip the other three circles, chocolate side down, on top of the plain circle, removing the baking paper as you go. Place a round 5cm scone cutter in the centre of the circle (do not press down). Make 16 evenly spaced cuts from the scone cutter to the outside of the dough. Remove the scone cutter. Hold two strips of the dough and rotate twice outward. Press the ends together. Continue with the remaining strips. Loosely cover with greased plastic wrap. If you wish to cook the following day, place the dough star into the refrigerator.

Leave to stand in a warm environment for 30 minutes to 1 hour at room temperature, or until doubled in size.

Set up and preheat your barbecue for baking (refer to your handbook for further information).

Whilst the barbecue is preheating, make the egg wash. Combine the egg yolk and 1 tablespoon water. Using a pastry brush, carefully brush onto the bread.

Once the barbecue has preheated, adjust the burner(s) to the baking setting. Bake the bread for 20 to 25 minutes. Once cooked, remove from the barbecue. Finish with a dusting of icing sugar.