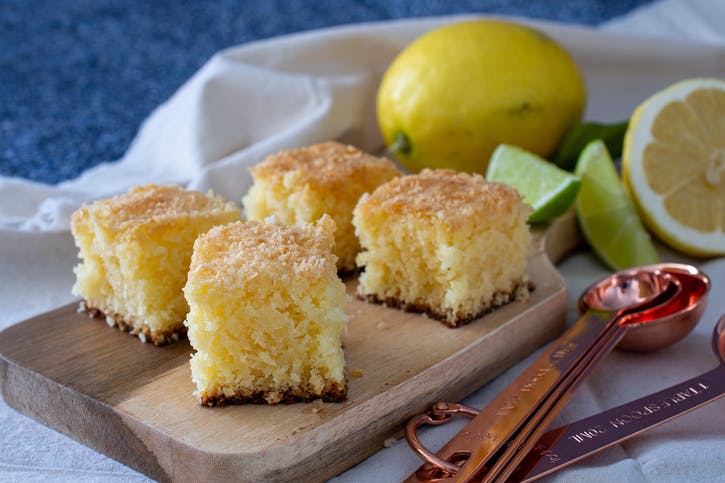 Back to All Recipes
EASY LEMON COCONUT SLICE
This decadent, citrus slice is simple to whip up with only 6 ingredients and can easily satisfy a crowd.
Ingredients
250 grams butter, softened

4 eggs

2 to 3 large lemons (2 tablespoons finely grated lemon rind + 1/3 cup lemon juice)

2 cups caster sugar

1½ cup self-raising flour

1 cup desiccated coconut, plus 2 tablespoons for topping

Icing sugar, to dust
Instructions
Prepare the barbecue for indirect cooking over medium-low heat (170°C to 190°C – baking setting).

In a Weber Ware frying pan, add the butter.

Place the frying pan onto the barbecue, on a side burner or a stove top and melt the butter. Once just melted, pour the butter into a large mixing bowl. Use a piece of paper towel to spread the leftover butter residue around the pan to grease. Line the pan with a sheet of baking paper (this will help to lift the slice out once cooked).

Add the sugar into the bowl with the butter and stir to combine. Add the eggs, one at a time, stirring well after each addition. Add the flour, lemon rind, lemon juice and 1 cup of the coconut. Stir to form a cake batter. Pour the Batter into the frying pan. Sprinkle the remaining 2 tablespoons of coconut over the cake.

Bake the lemon slice over indirect medium-low heat, with the lid closed, for 30 to 40 minutes, or until a skewer inserted comes out clean.

Leave the cake to cool completely before slicing. Dust with icing sugar before serving.