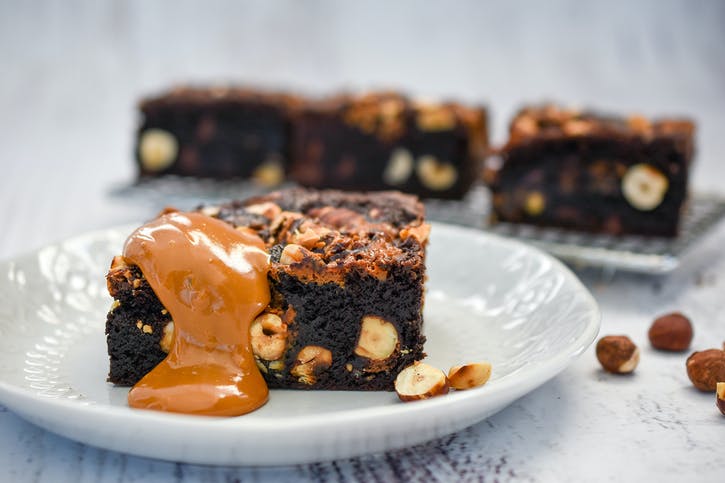 Back to All Recipes
FERRERO ROCHER BROWNIES
Ingredients
½ cup hazelnuts

2 x packet brownie mix- plus required ingredients

15 Ferrero Rocher chocolates

190 grams Caramel Top N Fill

Icing sugar
Instructions
Set up your barbecue for direct cooking. Place a Large Weber Casserole Dish (without lid) on the barbecue and preheat on high. Please refer to your handbook for further instructions.

Once the barbecue is preheated, pour the hazelnuts into the casserole dish and toast for about 2 minutes, or until the skins blacken.

Remove the casserole dish from the barbecue with the detachable handles. Pour the toasted hazelnuts on a clean tea towel and rub to remove the skins. Roughly chop the hazelnuts.

Set up your barbecue for indirect cooking. Preheat your barbecue for baking.

Make the brownie mix as per the packet instructions. Roughly chop the Ferrero Rocher® chocolates. Add approximately 10 of the chopped chocolates and the roughly chopped hazelnuts to the brownie mixture and stir through.

Pour the brownie mix into a large Weber Ware Casserole Dish. Dollop the Caramel Top N Fill over the brownie mixture. Using a butter knife, drag the caramel through the brownie mixture, being careful not to touch the casserole dish with the knife. Sprinkle the remaining chocolates on top of the brownie.

Once the barbecue is preheated, make adjustments to the burner control(s) for the baking setting. Place lid on the casserole dish (vent closed) and cook for 45 to 50 minutes.

Once the brownies are cooked, remove from the barbecue and leave to cool for 10 minutes without the lid on. Turn the brownies out onto a cooling rack and leave to cool completely before slicing.

Finish with a dusting of icing sugar.