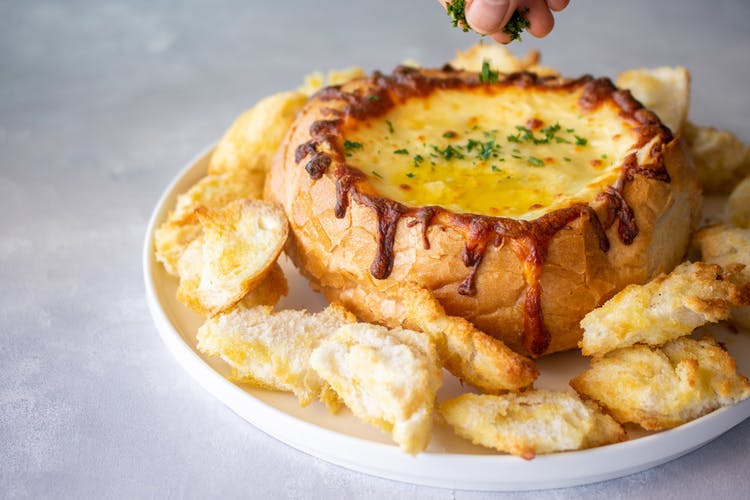 Back to All Recipes
GARLIC BREAD COB LOAF
Gooey mozzarella cheese and garlic butter dip with crunchy croutons- this is the ultimate cob loaf dip recipe perfect for your barbecue.
Ingredients
1 large cob loaf (approximately 680g)

3 tablespoons olive oil

2 teaspoons finely chopped fresh parsley
GARLIC BUTTER:
3 garlic cloves, finely chopped

100 grams butter, softened

1 teaspoon dried mixed herbs or Italian herbs
CHEESE MIX:
250 millilitres sour cream

250 grams cream cheese

1 cup grated mozzarella + extra ¼ cup to sprinkle on top

1 cup grated parmesan cheese
Instructions
Prepare the barbecue for indirect cooking over medium heat (190°C to 230°C). If using a Weber Q® barbecue, set up your barbecue with a convection tray and a trivet.

In a small bowl, combine all the garlic butter ingredients. In a large bowl, combine all of the cheese mix ingredients. Using a bread knife, cut the top off the cob loaf. Tear the bread top into bite sized pieces. Pull the inner bread out of the cob loaf to create a bowl. Tear the inner bread into bite sized pieces. Coat the torn bread with 3 tablespoons of olive oil, toss to evenly coat the pieces. Add one quarter of the cheese mix into the bowl of the loaf. Next, dot one quarter of the garlic butter over the cheese mix in the cob. Repeat, continuing the layering of the cheese mix and garlic butter. Finish with a sprinkle of extra grated mozzarella cheese.

Bake the cob loaf over indirect medium heat for 20 minutes, or until the cheese is warm and the mozzarella has started to turn golden. 10 minutes into the cooking time, add the torn pieces of bread to the barbecue, and bake around the loaf (indirect medium heat) for 10 minutes.

Remove the cob loaf and torn bread from the barbecue. Garnish with chopped parsley and serve immediately.