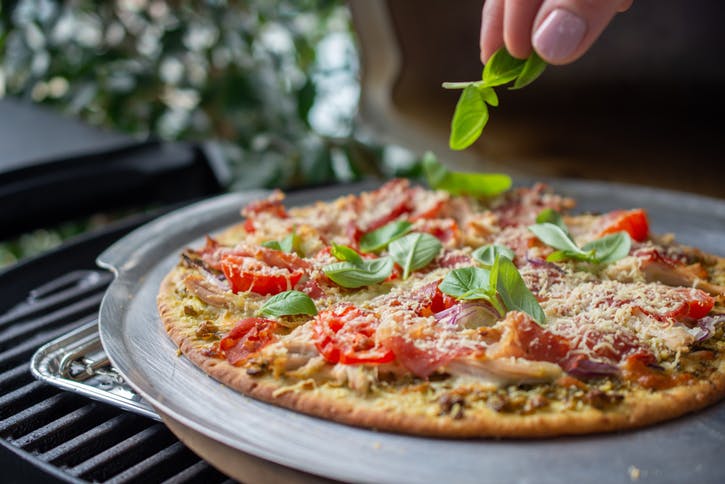 Back to All Recipes
GOURMET CHICKEN, PESTO AND PROSCIUTTO PIZZA
Who doesn't love the crunch of a perfectly crisp pizza, the smell of succulent roast chicken, and enjoyment of golden, gooey cheese? The taste sensation this pizza delivers will have you reaching for another slice over and over again- plus it's a great excuse to repurpose any left-over chicken.
Ingredients
2 x large premade pizza bases (approximately 27cm)

5 tablespoons basil pesto dip (150)

200 grams left-over cooked chicken, shredded

100 grams cherry tomatoes

¼ red onion

150 grams grated mozzarella

50 grams pecorino

100 grams prosciutto slices

20 fresh basil leaves
Instructions
Prepare the barbecue for indirect cooking over medium-high heat (220°C to 260°C) with a Weber Pizza Stone. If you are using a Weber Q barbecue, set up your barbecue with a convection tray, trivet and the pizza stone. Preheat the pizza stone for 20 minutes, or as directed by your pizza stone instructions.

To prepare the ingredients; shred the cooked chicken, slice the cherry tomatoes, and thinly slice the red onion.

Prepare your pizzas on Weber Easy-Serve Pizza Trays. Spread the pesto dip evenly over the pizza bases. Place a small amount of mozzarella cheese on top. Cover with a mix of shredded cooked chicken, cherry tomatoes, red onion and prosciutto. Finish with the remaining mozzarella and using the microplane, finely grate the pecorino over the top.

Place the pizza tray (with pizza) onto the stone and roast over indirect medium-high heat for 15 minutes each, or until the cheese has turned golden and the base is crispy.

Finish the pizzas with fresh basil, slice and serve.