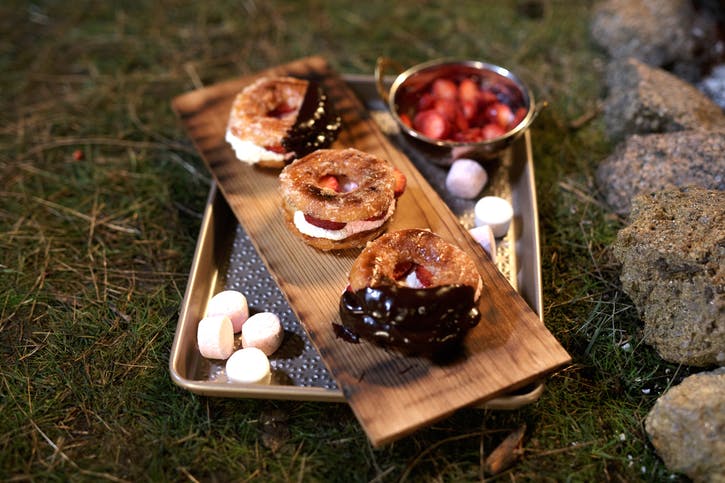 Back to All Recipes
GRILLED DONUT S'MORES WITH CHOCOLATE DIPPING SAUCE
A decadent twist on the camping favourite. Grilling the donuts creates a delicate, brûléed effect with the glaze. The chocolate dipping sauce is the perfect accompaniment to leave your wanting S'more…
Ingredients
24 marshmallows

6 glazed donuts (or cinnamon sugar donuts)

1 punnet strawberries, hulled and sliced
CHOCOLATE DIPPING SAUCE
Instructions
Prepare the barbecue for direct cooking over low heat (close to 150°C)

Once the barbecue has preheated, add the chocolate dipping sauce ingredients to a large Q ware frying pan or small Weber round frying pan. Place the pan onto the cooking grill and cook the sauce over direct low heat, with the lid closed, for 5 minutes, or until just bubbling. You will need to stir the sauce every minute or so with a silicone whisk. Remove from the heat, pour the sauce into a serving dish.

Using a breadknife, slice the donuts in half. Grill the donut halves on the cooking grill, cut side down, over direct Low heat, with the lid closed, for 60 seconds, or until golden grill marks appear. Rotate (don't flip) the donuts 90° and cook for another 60 seconds. Flip the donut halves, place 3 to 4 marshmallows on top of a half of the toasted donuts, then cook for 60 seconds. Finally rotate the donuts 90° and cook for final 60 seconds or until the donut is golden all over and the marshmallow has started to melt.

To assemble, place slices of strawberry on a toasted donut half without the marshmallow, flip the other half (with marshmallow) onto the strawberries to create a sandwich. Repeat with the remaining donuts.

Serve the donuts with the chocolate dipping sauce and enjoy!