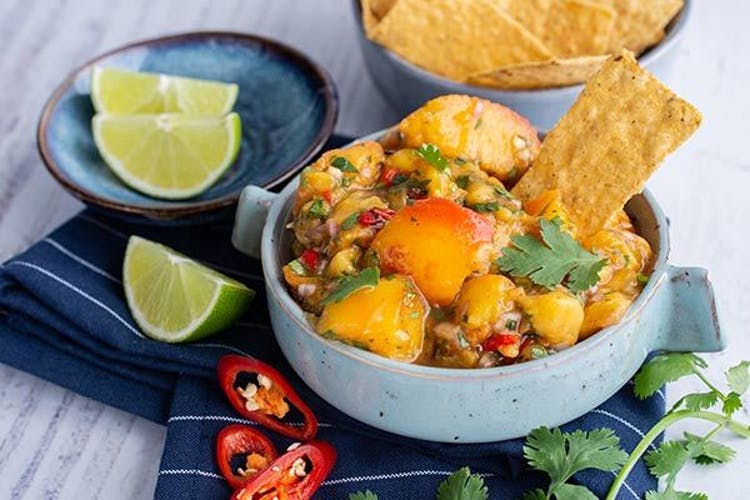 Back to All Recipes
GRILLED PEACH AND MANGO SALSA
A Summery side dish to serve with your barbecued meats, whether it's seafood, chicken, lamb or even just corn chips. This salsa can be tailored to your taste buds, leave the chilli seeds in for an extra heat kick or add extra lime for a zesty tang.
Ingredients
1 ripe mango

3 ripe peaches, halved and stones removed

1 tablespoon olive oil

1 red chilli

1 tablespoon finely chopped shallot

2 tablespoons finely chopped coriander leaves

2 tablespoons lime juice, or to taste

Sea salt

Freshly ground black pepper
Instructions
Prepare the barbecue for direct cooking over medium-high heat (200° to 260°C). Cut the cheeks from the mango. Brush the mango cheeks and peach halves with the olive oil.

Grill the chilli over direct medium-high heat, with the lid closed, until blackened and blistered, 6 to 8 minutes, turning once or twice. At the same time, grill the mango and peach halves, cut side down, until caramelised, 3 to 4 minutes. Remove from the grill as they are done.

Peel the blackened skin off the chilli, cut in half lengthwise, remove the seeds if desired, and finely chop the flesh. Using a paring knife, peel the skin off the mango cheeks and peach halves, and then finely dice.

In a medium bowl mix together the chopped chilli, diced mango, diced peaches, shallot, coriander, and lime juice. Season with salt and pepper to taste. Serve immediately; or refrigerate for up to 24 hours and bring to room temperature before serving.