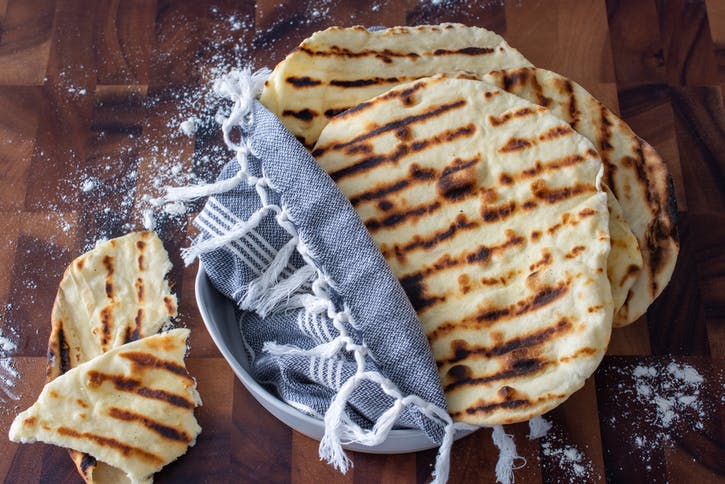 Back to All Recipes
HOMEMADE BARBECUED FLATBREADS
Imagine soft, fresh, hot flatbreads cooked on your barbecue. This is a simple dough recipe and an easy technique to cook tasty flatbreads on your barbecue. These can be cooked on a hotplate, Grilling Stone or even straight on the cooking grill.
Ingredients
2 cups plain flour, plus extra for dusting

3 teaspoons baking powder

1 teaspoon sea salt

1 cup Greek yoghurt (or plain yoghurt)

2 tablespoons ghee, melted
Instructions
In a medium bowl, combine the flour, baking powder and salt. Create a well in the centre and add the yoghurt. Bring the mixture together into a soft dough. You may need add a little more flour or add a little water depending on the brand of flour. Knead the dough for approximately 5 minutes, until smooth. Cover the dough with plastic wrap and leave to rest for approximately 20 minutes while you prepare the barbecue.

Prepare the barbecue for direct cooking over high heat (260°C to 290°C) with a hotplate or Weber Grilling Stone. Alternatively, the flatbreads can be cooked straight on the cooking grill.

Divide the dough into approximately 6 portions. Roll each portion into a circle, 3mm thick, dusting the bench with flour if needed. Once rolled out, you can place each flatbread onto a square of non-stick baking paper for easy manoeuvring.

Once the barbecue has preheated. Brush the top of one flatbread with the melted ghee and place the flatbread onto the hotplate, Pulse Grilling Stone or straight onto the cooking grill, ghee side down, removing the baking paper once the flatbread is on the barbecue. Brush the other side of the flatbread with the ghee. Close the lid and cook the flatbread over direct high heat for 1 to 2 minutes, or until golden. Flip the bread and cook the other side for a further 1 to 2 minutes, or until golden on both sides and cooked through. Remove from the barbecue and place in a clean tea towel to keep warm. Continue cooking the remaining flatbreads. Serve immediately.