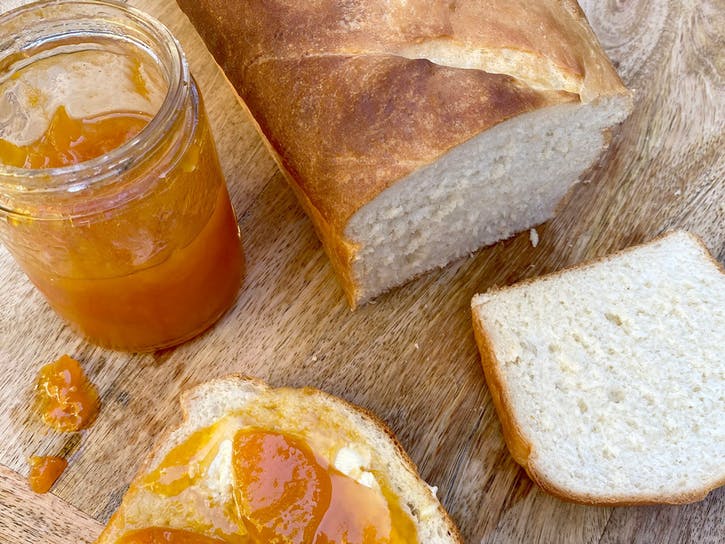 Back to All Recipes
HOMEMADE BREAD
Making homemade bread is so satisfying. Especially when you can bake it on the barbecue and tease the neighbours! This recipe is tried, tested and loved!
Ingredients
2½ cups bread flour (or plain white flour)

1 teaspoon salt

2 tablespoons sugar

2 teaspoons instant dried yeast *see note

250 millilitres warm water

50 grams butter, melted (plus a little extra butter for brushing on top)
Instructions
Into a large bowl, add the flour, salt, sugar and yeast. Give this a quick stir and then add the warm water and melted butter; stir to fully combine. Once the dough has come together, turn out onto a clean surface and knead for 10 minutes.

After 10 minutes of kneading, return the dough to a clean bowl, cover with plastic wrap and leave to rise in a warm spot for an hour or until the dough has doubled in size.

Grease and line an approximate 11cm x 30cm loaf tin with baking paper. Once the dough has doubled in size, turn out onto a clean surface and again knead for a couple of minutes. Shape the dough into an approximate size of your loaf tin. Add the dough to the loaf tin, cover with plastic wrap and leave to proof for a further 30 minutes, or until it has again doubled in size.

Preheat your barbecue for indirect cooking over medium-low heat (170°C to 190°C). If you are using a Weber Q® barbecue, set up your barbecue with a convection tray and a trivet.

Using a sharp knife, carefully score the top of the dough several times. Using a pastry brush, gently brush the melted butter over the top.

Bake the bread over indirect medium-low heat for 20 to 25 minutes, or until the loaf sounds hollow when tapped on. Remove from the barbecue with heatproof gloves and leave to cool for at least 5 minutes before slicing.
Tips:
Ensure that your yeast has not expired and that is has been stored correctly. If you are uncertain if your yeast is good, use the "blooming method" of mixing the warm water, sugar and yeast in a small jug/bowl and leave for 5 minutes, if it has foamed up you can add it to the remaining ingredients. If it did not foam up, you will need to discard and use new yeast.