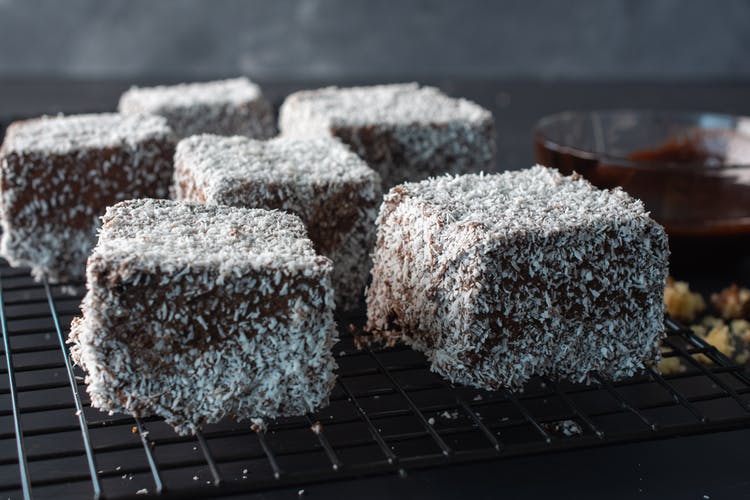 Back to All Recipes
LAMINGTONS
A classic Australian dessert. This super soft and buttery cake cooks perfectly in the barbecue. Coated with a rich chocolate icing and covered with coconut, it's easy to see why it will forever be an Australian favourite
Ingredients
4 cups desiccated coconut

Cooking oil spray, to grease
BUTTER CAKE:
Instructions
Prepare the barbecue for indirect cooking over medium-low heat (170°C to 190°C-baking setting). If using a Weber Q barbecue, set up your barbecue with a convection tray and a trivet. Lightly grease a large Weber Ware Casserole Dish with cooking oil spray and line with baking paper.

For the butter cake; using an electric mixer, beat together the butter, caster sugar and vanilla, on a medium speed until light and fluffy. Add the eggs one at a time, beating after each addition. Add half of the flour and milk, beat on a low speed until combined. Add the remaining flour and milk, continue to beat for a further minute, or until fully incorporated. Pour the batter into the casserole dish.

Bake the butter cake over indirect medium-low heat for 50 to 60 minutes, or until a skewer inserted into the centre of the cake comes out clean. Once cooked remove from the barbecue and allow to cool for 10 minutes.

Once slightly cooled, remove the cake from the dish and place onto a cake cooling rack to cool completely.

Once completely cooled, using serrated bread knife, slice into squares. If desired, freeze the squares of cake for an hour or overnight (see tips).

To make the icing; in a large bowl combine the icing sugar mixture, cocoa powder, butter, milk and water. Put the coconut into a separate bowl.

One at a time, place a square of cake into the chocolate mix, using two forks, toss the cake around to evenly coat it with the icing. Lift the cake out of the icing a let the excess icing drip off. Add the iced cake to the coconut mixture, using another two forks, toss the cake around in the coconut. Place the lamington onto a plate or cake cooling rack for the icing to set. Repeat with the remaining cake. Serve once the icing has set.
Tips:
Using eggs at room temperature will help prevent the butter mix from splitting. If the mixture does curdle, it will come back together once you add the flour.
Freezing the cake once it has cooked will make the icing process a lot easier as the cake will not crumble into the icing and the icing will set faster.