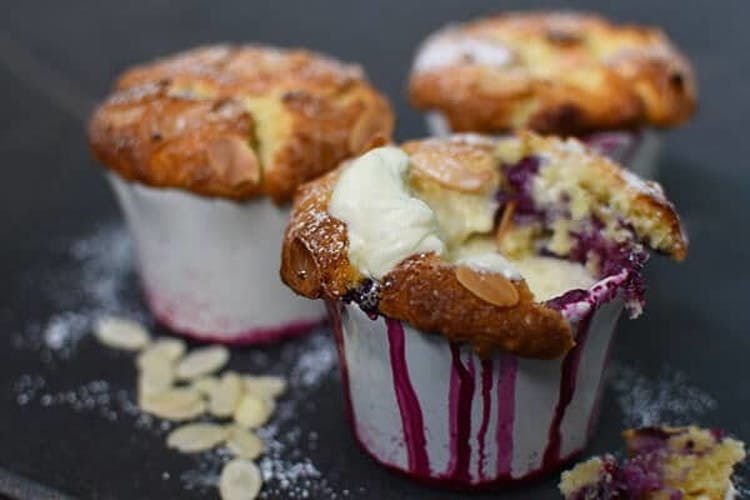 Back to All Recipes
MIXED BERRY COBBLER
Ingredients
1 cup self raising flour

100 grams unsalted butter

⅔ cup caster sugar, divided

⅓ cup buttermilk

2 teaspoons vanilla extract, divided

1 x 250g punnet strawberries, hulled and quartered

1 punnet (125g) raspberries

1 x 125g punnet blueberries

¼ cup flaked almonds

Icing sugar

Thickened cream
Instructions
Set up your barbecue for indirect cooking. Please refer to your handbook for further instructions. Preheat your barbecue for baking.

In a bowl mix together the flour, butter, and ⅓ cup of the caster sugar. Using your fingertips, rub the mixture together until it resembles fine bread crumbs. Add the buttermilk and 1 teaspoon of the vanilla and stir to combine (the mixture will form into a wet dough). Set aside.

In a separate bowl mix together the berries, the remaining ⅓ cup caster sugar, and the remaining 1 teaspoon vanilla extract. Toss to combine.

Divide the berry mixture between four ramekins. Gently press down on the berries to compact them. Top with the wet dough, and then add the flaked almonds.

Once the barbecue is preheated, make adjustments to the burner control(s) if required for the indirect baking setting. Place the ramekins on and cook until the cobbler is golden and cooked through, 35 to 40 minutes. Dust the cobbler with icing sugar and serve with the thickened cream.