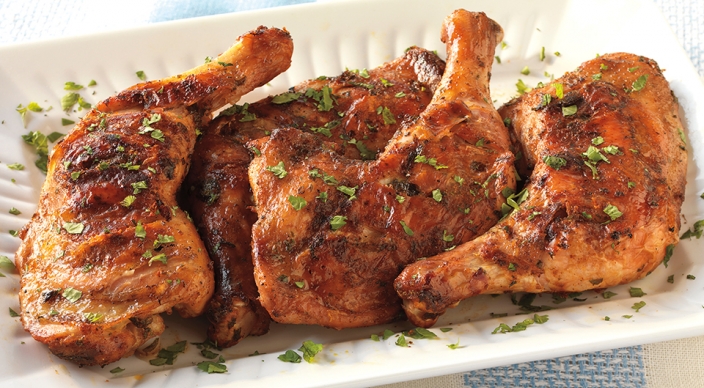 Back to All Recipes
Moroccan-Spiced Chicken Legs Under Bricks
Serves: 4 // Prep time: 25 minutes | Marinating time: 4 to 6 hours | Grilling time: 40 to 45 minutes | Special equipment: sheet pan and 2 foil-wrapped bricks
Ingredients
MARINADE
½ cup packed roughly chopped fresh cilantro leaves
⅓ cup packed roughly chopped fresh mint leaves
¼ cup extra-virgin olive oil
2 teaspoons finely grated lemon zest
2 tablespoons fresh lemon juice
2 teaspoons kosher salt
2 teaspoons ground cumin
2 teaspoons paprika
3 garlic cloves, minced
1 teaspoon freshly ground black pepper
4 whole chicken legs, each 10 to 12 ounces, trimmed of excess fat and skin
1 tablespoon roughly chopped fresh cilantro leaves
1 tablespoon roughly chopped fresh mint leaves
Instructions
In a small bowl combine the marinade ingredients.
Cut a few deep slashes in the meaty part of each chicken leg. Place the chicken in a large resealable plastic bag and pour in the marinade. Press the air out of the bag and seal tightly. Turn the bag to distribute the marinade, place in a bowl, and refrigerate for 4 to 6 hours, turning the bag occasionally.
Prepare the grill for direct and indirect cooking over medium-high heat (400° to 500°F).
Remove the chicken from the bag and discard the marinade. Place the chicken, skin side down, over indirect medium-high heat. Place a sheet pan on top of the chicken and weight it down with two foil-wrapped bricks. Close the lid and cook until golden around the edges, 20 to 25 minutes. Remove the bricks and sheet pan and, using a large spatula, carefully turn the chicken legs over, being careful not to tear the skin. Replace the weight, close the lid, and cook until the juices run clear and the meat is no longer pink at the bone, about 20 minutes more. If desired, to crisp the skin, remove the weight, turn the chicken skin side down, and grill over direct medium-high heat for about 5 minutes. Remove from the grill, garnish with the cilantro and mint, and serve warm.