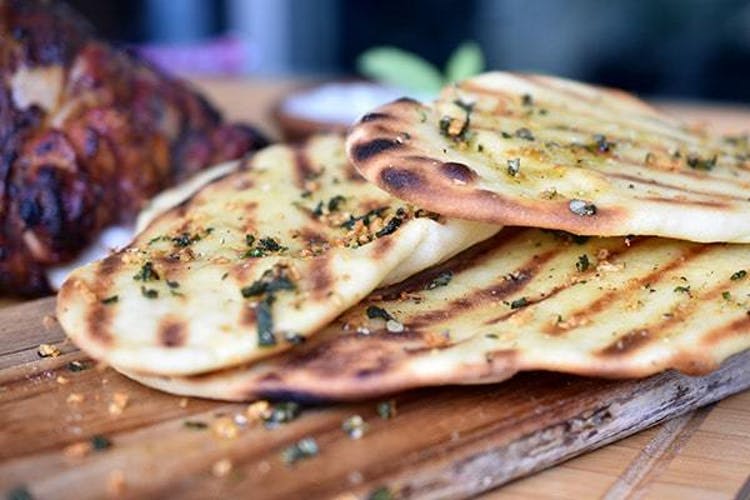 Back to All Recipes
NAAN BREAD
Ingredients
1½ cup bread flour

1 teaspoon dry yeast

½ teaspoon caster sugar

½ teaspoon sea salt

⅓ cup warm water

3 tablespoons plain yoghurt

1 tablespoon oil

⅓ cup ghee, melted
HERBED BUTTER
50 grams butter

3 garlic cloves

1 tablespoon finely chopped fresh sage

2 tablespoons finely chopped fresh rosemary

Sea salt

Freshly ground black pepper
Instructions
In a large bowl or bread mixer combine the flour, yeast, sugar, salt, warm water, yoghurt, and oil. Knead for 10 to 15 minutes, and then let rise for 40 minutes or until doubled in size.

Divide the dough into six portions and roll each portion into a 20cm by 10cm oval shape. Place on individual squares of baking paper.

Prepare your barbecue for direct cooking over medium heat (180°C to 230°C).

While the barbecue is preheating, make the herbed butter. In a saucepan on a side burner or stove top, melt the butter over medium heat. Add the garlic and cook until golden, about 3 minutes. Add the herbs and cook for a further 2 minutes. Remove from the heat and season with salt and pepper. Set aside until required.

Using a pastry or basting brush, lightly brush the melted ghee onto the top side of the naan.

Place the flatbreads onto the cooking grill, ghee side down, removing the baking paper once the naan is on the barbecue. Brush the now topside of the naan with the ghee. Grill over direct medium heat, with the lid closed for 2 to 3 minutes. Flip over and cook until the bread has puffed and has grill marks, a further 2 to 3 minutes. Remove from the grill and finish off by brushing both sides of the naan breads with the herbed butter.