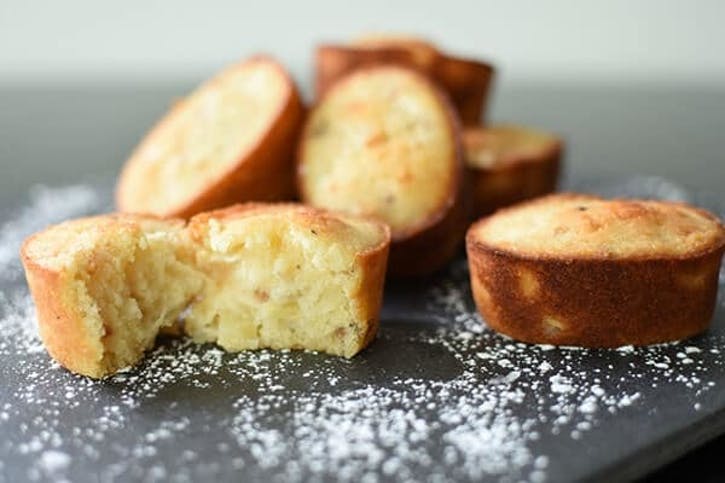 Back to All Recipes
PINEAPPLE FRIANDS
Ingredients
½ cup whole unsalted macadamias

Canola oil cooking spray

6 egg whites, room temperature

1⅓ cup icing sugar, sifted, plus extra for serving

¾ cup plain flour, sifted

¾ cup almond meal

200 grams unsalted butter, melted

1 teaspoon vanilla essence

400 grams x 1 can crushed pineapple in juice, drained
Instructions
Place the Weber Ware Frying Pan in the Q and preheat on high for 10 minutes.

Add the macadamia nuts to the frying pan and toast until golden, 3 to 5 minutes, being careful not to burn them. Remove the frying pan from the Q using the detachable handle. Set the nuts aside to cool.

Add a convection tray and trivet to the Q using tongs or wearing heatproof gloves. Set your barbecue to the roast setting.

Finely chop the nuts or blend in a processor until crushed.

Spray a 12-hole friand tin with the canola oil.

Place the egg whites in a large mixing bowl. Using electric beaters whisk until firm peaks form. Add the nuts, icing sugar, flour, almond meal, butter, essence, and pineapple to the egg whites. Gently fold the mixture until just combined. Spoon the mixture into the prepared tin, making sure to only fill the holes three-fourths of the way to allow the friands to rise.

Bake the friands in the Q until golden brown and when a skewer is inserted comes out clean, 20 to 23 minutes. Remove the friands from the tin and let cool on a cooling rack. Cook the remaining batter.

Just before serving, dust the friands with icing sugar.