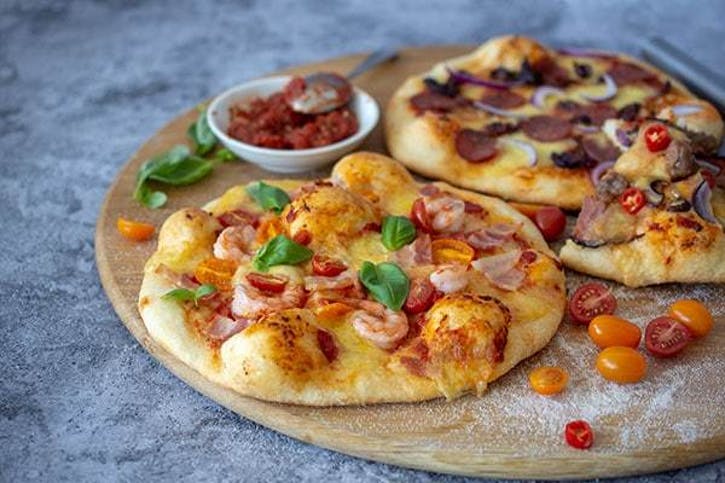 Back to All Recipes
PIZZA ON A WEBER PULSE
Ingredients
DOUGH
7 grams dried yeast

1 teaspoon white sugar

325 millilitres tepid water

400 grams pizza flour or Tipo 00, sifted

100 grams fine semolina, sifted

1 teaspoon fine sea salt

2 tablespoons olive oil
PIZZA SAUCE
1 x 400g can, diced tomatoes

1 tablespoon olive oil

1 teaspoon dried oregano

1 garlic clove, crushed
TOPPING SUGGESTIONS
1 mushroom, thinly sliced

¼ red onion, thinly sliced

50 grams ham, diced

1 fresh Italian sausage, casing removed, broken into pieces

100 grams fresh mozzarella, torn into pieces
PRAWN AND BACON
6 green prawns, raw, skin, heads and tails removed

1 bacon rasher, rind removed, sliced

6 cherry tomatoes, halved

100 grams fresh mozzarella, torn
SALAMI
3 sundried tomatoes, halved

6 Kalamata olives, halved

100 grams mozzarella cheese, torn

30 grams salami, thinly sliced
1 small red chili, thinly sliced

Fresh basil leaves, torn
Instructions
Make the dough by mixing the yeast, sugar, and water in a jug. Set the mixture aside for 5 minutes, or until it starts to become frothy. Place the flour, semolina, and salt in a large bowl, add the yeast mixture and the oil. Using your hands, mix together until a dough starts to form. Remove from the bowl and knead on a floured surface for 5 minutes, or until smooth. Place the dough in a floured bowl and cover with cling wrap. Rest in a warm spot, and leave until the dough has doubled in size, approximately 1 hour.

Make the sauce by placing all the ingredients in a saucepan, and cook over a low heat for 10 minutes, stirring occasionally. Once the sauce is cooked, remove from heat and leave to cool.

Once the dough has risen divide into three equal portions. Roll the dough out on a floured surface. Place the pizza base on a piece of baking paper that has been dusted with fine semolina.

To prepare the Pulse for cooking pizza over high heat (260° to 290°C), place the Pulse grilling stone in the centre of the cooking grills. Preheat the barbecue by turning the control knob(s) to high. Preheat until the barbecue reaches at least 290°C, which will take approximately 15 to 20 minutes with the lid closed. Once the barbecue is preheated, adjust the control knob(s) to one notch lower than high.
Note:
If using a pre-made pizza base, reduce the temperature to 240° to 260°C by adjusting the control knob(s) to one notch greater than medium.

Spread the pizza sauce evenly over the bases. Arrange chosen toppings on top of the sauce. Slide one pizza off the paper directly onto the stone. Cook the pizza for 14 to 16 minutes, or until the base is crisp and the cheese is gooey. Remove from the barbecue and top with the chili and basil, if desired. Repeat with the other two pizzas.