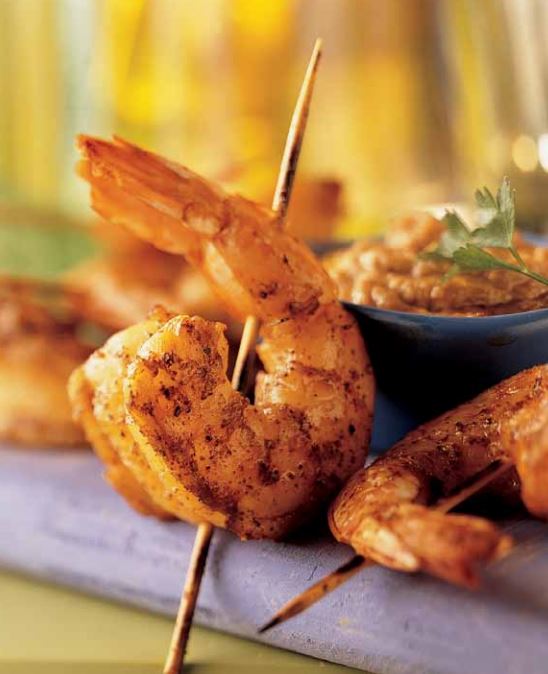 Back to All Recipes
Prawn Satay with Peanut Dipping Sauce
Ingredients
20 large green prawns (about 450g), peeled and de-veined
1 tablespoon vegetable oil
¼ teaspoon chilli powder
¼ teaspoon curry powder
¼ teaspoon freshly ground black pepper
½ teaspoon salt

For the sauce:
 

1 tablespoon vegetable oil
1 tablespoon minced garlic
1 tablespoon minced ginger
¼ cup smooth peanut butter
1 tablespoon soy sauce
¼ teaspoon freshly ground black pepper
¼ teaspoon Tabasco sauce (or more, to taste)
1 tablespoon fresh lime juice
Instructions
To make the sauce take a small saucepan and warm the oil over medium-high heat.
Add the garlic and ginger and cook until fragrant, about 1 minute, stirring occasionally.
Add ½ cup of water, followed by the peanut butter, soy sauce, pepper and Tabasco sauce. Whisk until smooth.
When the sauce comes to a simmer, remove it from the heat.
Just before serving, reheat the sauce over medium heat and add the lime juice and 2 to 3 tablespoons of water, whisking vigorously to achieve a smooth consistency.
Lightly brush or spray the prawns with oil. Season with the chilli powder, curry powder, pepper and salt.
Thread the prawns onto skewers, either one per skewer for hors d'oeuvres or four per skewer for a main course.
Barbecue for 1 to 3 minutes each side, or until opaque.
Serve with the peanut dipping sauce