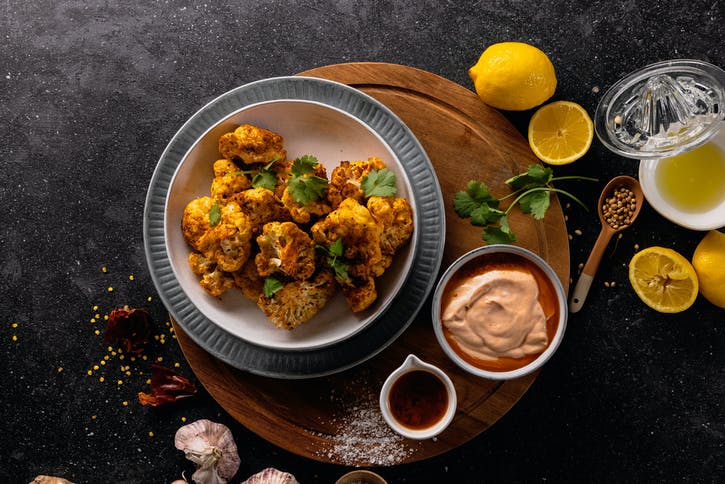 Back to All Recipes
Roasted Cauliflower bites with harissa yoghurt
These tender, sweet bites of cauliflower are so moreish with the spicy harissa yoghurt. A great party starter, side dish or bulk up with herbs and toasted seeds to make a scrumptious main dish.
Ingredients
350 grams cauliflower florets

1½ tablespoon extra-virgin olive oil

1¼ teaspoon Weber's All Purpose Rub

Fresh parsley leaves, roughly chopped, to garnish
HARISSA YOGHURT
Instructions
Prepare the barbecue for indirect cooking over medium heat (190°C-230°C).

In a bowl, add the cauliflower florets. Lightly coat with olive oil and season with Weber's All Purpose Rub.

Roast the cauliflower over indirect medium heat, with the lid closed, for 30 to 40 minutes or until the cauliflower is tender and lightly golden.

While the cauliflower is roasting, make the harissa yoghurt. In a small bowl combine the garlic, yoghurt, 3 teaspoons of harissa paste, lemon juice and sea salt. Stir to combine. In a separate small bowl, combine the remaining 1 teaspoon of harissa paste and 3 teaspoons of olive oil. Pour the yoghurt into a small serving bowl, drizzle the harissa oil over the top and swirl with a spoon if desired. Garnish the cauliflower with chopped parsley and the harissa yoghurt dipping sauce.