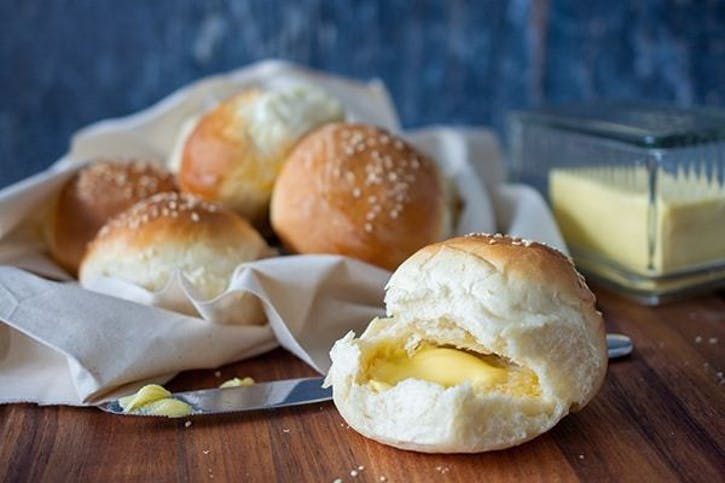 Back to All Recipes
SUPER SOFT BREAD ROLLS
There is nothing better than the smell and taste of homemade bread. These bread rolls are exactly as they are named, super soft. Fill them with barbecued meats or simply just slather them with butter.
Ingredients
7 grams instant dry yeast

6 teaspoons white sugar

1 cup warm water (approx. 45°C)

2 eggs, lightly whisked, divided

30 millilitres vegetable oil

1 teaspoon fine salt

2¾ – 3 cups bread flour

Canola oil cooking spray

1 tablespoon sesame seeds (optional)
Instructions
In a medium bowl combine the yeast, sugar, and warm water. Leave to sit for 5 minutes, or until foamy.

In a large bowl or bread mixer add the yeast mixture, half of the beaten eggs, vegetable oil, salt, and bread flour. Depending on the flour, you may need a little more or less, but start with 2¾ cups and add an extra ¼ cup if the dough is too sticky. Knead for 5 to 10 minutes. Place in a lightly oiled bowl, cover with plastic wrap, and leave to sit for 45 minutes to 1 hour in a warm area, or until doubled in size.

Knock back the dough and shape into 10 even balls. Place on a lined baking tray. Lightly spray plastic wrap with oil and loosely cover the tray, oiled side down. This will prevent the plastic wrap from sticking to the dough. Again, leave to rise for 30 to 45 minutes, or until doubled in size.

Prepare the barbecue for indirect cooking over medium-low heat (170°C to 190°C). If using a Weber Q® barbecue, set up your barbecue with a convection tray and a trivet.

Using a basting brush, brush the remaining beaten egg over the bread rolls. Sprinkle the sesame seeds over the rolls, if using.

Bake the bread rolls over indirect medium-low heat, with the lid closed, until the rolls are just golden and sound hollow when tapped, 12 to 14 minutes.