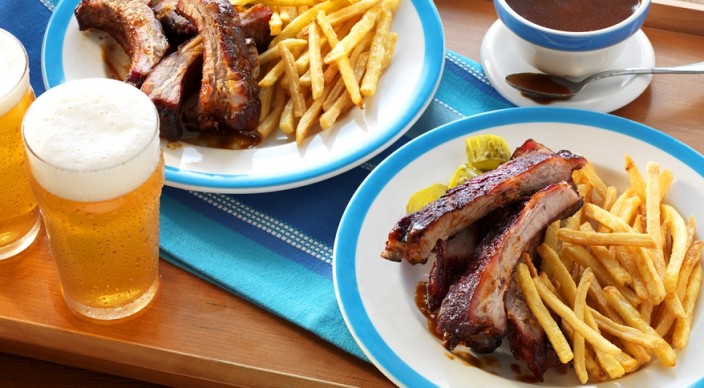 Back to All Recipes
Sweet and Spicy Baby Back Ribs
Serves: 4 | Prep time: 20 minutes | Marinating time: 4 to 18 hours | Grilling time: 40 to 50 minutes
Ingredients
RUB
2 tablespoons packed brown sugar
1 tablespoon kosher salt
1 tablespoon paprika
2 teaspoons mustard powder
1 teaspoon freshly ground black pepper
¾ teaspoon ground cayenne peppe
2 meaty racks baby back ribs, each 2 to 2½ pounds
MOP
1 cup apple juice
¼ cup cider vinegar
SAUCE
½ cup maple syrup
½ cup ketchup
½ cup cider vinegar
4 ounces bourbon
¼ cup Dijon mustard
2 tablespoons hot chili-garlic sauce, such as Sriracha
2 tablespoons Worcestershire sauce
2 tablespoons soy sauce
½ teaspoon ground cayenne pepper
Instructions
Combine the rub ingredients. Using a dull knife, slide the tip under the membrane covering the back of each rack of ribs. Lift and loosen the membrane until you can pry it up, then grab a corner of it with a paper towel and pull it off. Season the racks all over with the rub and allow them stand at room temperature for 45 minutes before grilling.
Prepare the grill for indirect cooking over low heat (250°F to 350°F).
In a small bowl mix the mop ingredients.
In a saucepan combine the sauce ingredients. Bring to a boil over medium-high heat, and then reduce the heat to medium-low and simmer, uncovered, until the sauce reduces by half and has a syrupy consistency, 6 to 8 minutes, stirring frequently. Remove from the heat.
Grill the ribs, bone side down, over indirect low heat, with the lid closed, for about 2½ hours, rotating them two to three times so that both sides of each rack spend the same amount of time closest to the heat. After the first hour of cooking, baste with the mop. Continue to baste every 30 minutes or so.
After 2½ hours, check to see if one or both racks are ready to come off the grill. They are done when the meat has shrunk back from the ends of most of the bones by ¼ inch or more. Lift a rack by picking up one end with tongs. It should bend in the middle and the meat should tear easily. If the meat does not tear easily, continue to cook until it does, up to 1 hour more.
Remove the racks from the grill and lightly brush them on both sides with some of the sauce. Return the racks to the grill and cook over indirect low heat, with the lid closed, until the surface is slightly crispy, 10 to 15 minutes, turning occasionally. Remove from the grill and let rest for 5 to 10 minutes. Cut the racks between the bones into individual ribs and serve warm with the remaining sauce.