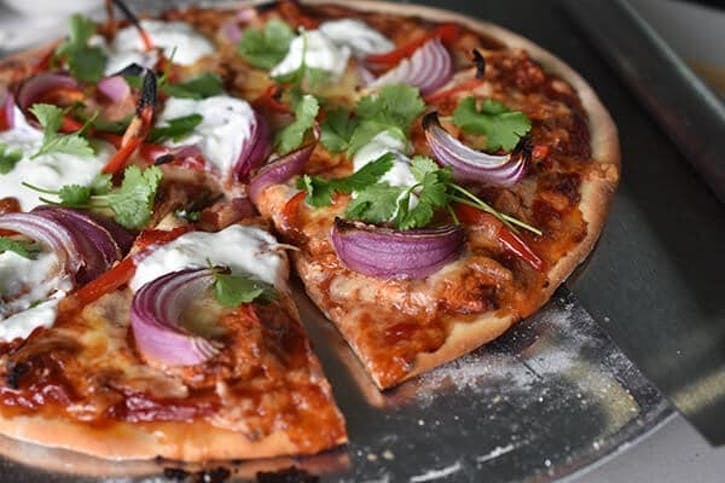 Back to All Recipes
TANDOORI CHICKEN PIZZA
Ingredients
2 x chicken breasts, thinly sliced

4 tablespoons tandoori paste

2 tablespoons plain yoghurt

2 tablespoons olive oil

Plain yoghurt, to serve

Fresh coriander leaves, to serve
DOUGH
2 cups premix bread flour

¾ cup warm water

1 teaspoon dry yeast
TOPPING
6 tablespoons tomato paste

½ red onion, sliced

1 medium red capsicum, sliced

1 cup tasty shredded cheese
Instructions
In a bowl combine the sliced chicken breast, tandoori paste, and plain yoghurt. If time permits, refrigerate for 1 hour to marinate.

To make the dough, combine the dough ingredients and mix well until smooth. Turn out onto a floured surface and knead for 10 minutes. Place into a lightly oiled mixing bowl and leave covered in a warm place for 30 minutes.

Prepare the barbecue for indirect cooking over medium-high heat (220°C to 260°C) with a Weber Pizza Stone. If you are using a Weber Q barbecue, set up your barbecue with a convection tray, trivet and the pizza stone. Preheat the pizza stone for 20 minutes, or as directed by your pizza stone instructions.

Once the dough has risen divide the mixture into two equal portions. Roll the dough out on a floured surface to the size of the pizza stone/tray (approx. 30cm). Drizzle a tablespoon of olive oil onto each tray. Place the bases onto the trays. Top each base with the tomato paste, tandoori chicken, red onion, capsicum, and finish with tasty cheese.

Place the pizza (on tray) onto the stone and bake over indirect medium-high heat, with the lid closed, for 20 to 25 minutes or until the cheese is golden.

Remove the pizza from the barbecue wearing heatproof gloves. Repeat cooking process to cook the second pizza.

Finish the pizzas with dollops of yoghurt and garnish with coriander.