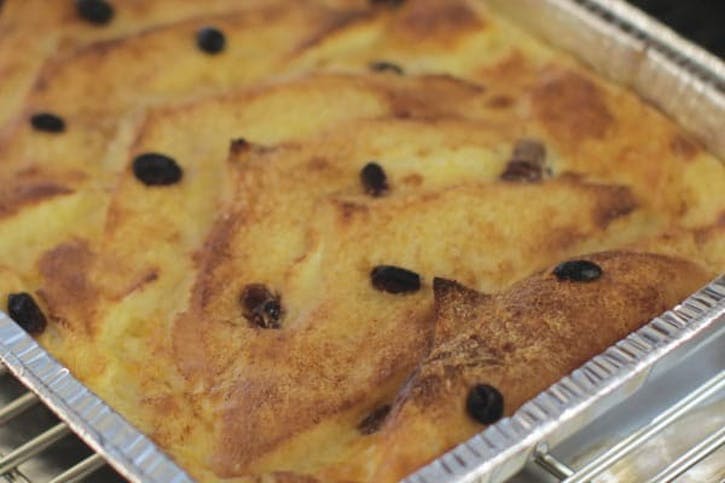 Back to All Recipes
TRADITIONAL BREAD AND BUTTER PUDDING
Ingredients
4 eggs

1 tablespoon sugar, plus extra 1 teaspoon, divided

1 teaspoon vanilla essence

600 millilitres milk

1 tablespoon sultanas

1 tablespoon chopped walnuts

3 slices bread, buttered with crusts removed

1 teaspoon ground cinnamon

Whipped cream or ice cream
Instructions
Prepare the barbecue for indirect cooking over medium-low heat (170°C to 190°C).] If you are using a Weber Q barbecue, set up your barbecue with a convection tray and trivet.

Beat the eggs with 1 tablespoon of the sugar, the vanilla, and milk. Strain the mixture into a lightly buttered aluminium drip pan. Add the sultanas and walnuts.

Butter the slices of bread. Cut the buttered bread into triangles and float them on top of the egg and milk mixture. Sprinkle the pudding with the remaining 1 teaspoon sugar and the cinnamon.

Bake the pudding over indirect medium-low heat, with the lid closed, for 30 to 40 minutes, or until the custard is set.

Serve warm with whipped cream or ice cream.