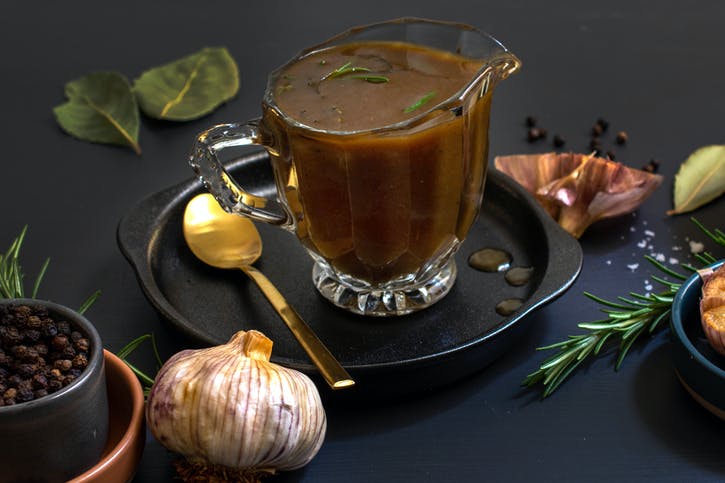 Back to All Recipes
ULTIMATE GRAVY
There's joy in making a gravy from scratch. This recipe starts with a flavourful stock with barbecue roasted bones and vegetables. To save the hassle of making a last-minute gravy, make this a couple of days ahead so you can simply reheat it. This recipe is designed to accompany a beef dish, see our tips below for recipe adaptions for other proteins.
Ingredients
1 kilogram beef soup bones, or two leftover roast chicken carcasses (see note)

2 brown onions, peeled and quartered

1 garlic bulb

2 carrots, roughly chopped

2 tablespoons extra-virgin olive oil

1 teaspoon sea salt

1 teaspoon freshly ground black pepper

5 litres water, plus 4 tablespoons

3 sticks celery, roughly chopped

2 Bay Leaves

4 sprigs of rosemary, divided (or other herbs, see notes)

1 teaspoon black peppercorns

1 tablespoon apple cider vinegar

2 sprigs of rosemary

2 tablespoons corn starch

1/2 to 1 tablespoon soy sauce, to taste
Instructions
Prepare the barbecue for indirect cooking over medium heat (roasting setting- 190°C-230°C)

Lightly coat the beef bones, onion, garlic bulb and carrot with olive oil and season with salt and pepper.

Once the barbecue has preheated, roast the beef bones, onion, garlic and carrot over indirect medium heat, with the lid closed, for 30 to 45 minutes or until the ingredients have turned golden on the edges.

In a large stock pot, add the 5L water, celery, bay leaves, 2 sprigs of rosemary, peppercorns, apple cider vinegar and the roasted beef bones, onion, garlic and carrot. On a barbecue side burner or stove top simmer for 2 ½ hours, skimming any impurities off the top as the stock simmers.

Once the stock has simmered and heavily reduced. Strain the stock, discard the solids and pour the liquid into a smaller saucepan. Simmer the stock for a further 30 minutes to reduce the liquid down to approximately 500mL.

In a small bowl mix together the cornflour and 4 tablespoons of water, mix to fully combine. Add the cornflour mixture and the remaining 2 stalks of rosemary to the gravy and simmer until thickened. Finally taste the gravy, slowly adding the soy sauce, tasting as you add the soy sauce, until the gravy is seasoned to your liking. Remove from the heat and serve.
Beef Bone Base:
Beef- suggested herbs- rosemary, thyme Lamb- suggested herbs- rosemary, mint, oregano Pork- thyme, oregano
Chicken Carcass Base:
Chicken- suggested herbs- thyme, rosemary Turkey- suggested herbs- rosemary, oregano
Storage Tip:
This gravy can be kept in a fridge for 3 days or frozen for up to 2 months.