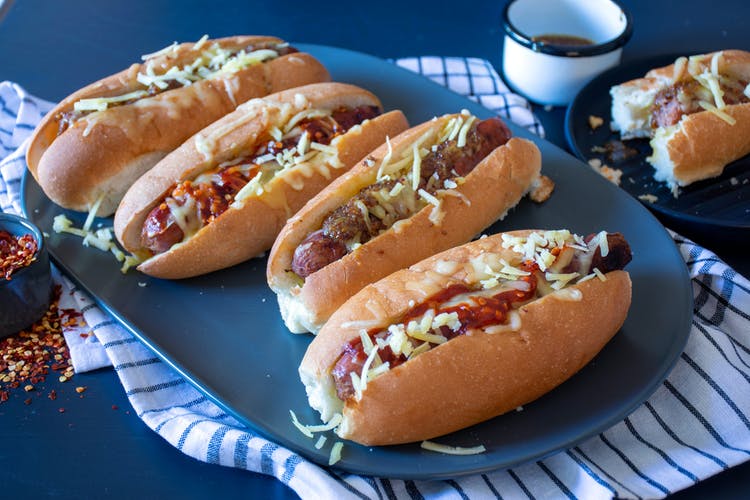 Back to All Recipes
VB BEER BRAISED HOTDOGS
Braising your sausages infuses the flavours of your beer throughout the meat. After the braise, they are best seared over direct heat for that brown exterior we all love. Within this recipe we have two quick sauces you can top the hot dogs with- honey mustard or chilli honey.
Ingredients
10 good quality sausages, hotlinks or bratwursts

2 x 325mL cans VB Beer

10 hotdog buns

300 grams swiss cheese, grated

200 grams cheddar cheese, grated
HONEY MUSTARD SAUCE
Instructions
Prepare the barbecue for direct and indirect cooking over medium heat (190°C-230°C).

Place the sausages into a large disposable drip pan. Pour the beer over the sausages.

Once the barbecue has preheated, place the tray of sausages onto the cooking grill over direct heat. Leave the sausages for 15 minutes for the liquid to come to a braising simmer. After 15 minutes, using heat proof gloves remove the pan from the barbecue.

While the sausages are cooking, mix together the two types of grated cheese. Make the honey mustard and chilli honey sauce, mix together their ingredients in two separate bowls.

One by one, remove the sausages from the tray and place onto the cooking grill directly over the heat and grill for 3 minutes, turning once, halfway through the cooking time or until the sausages have golden grill marks and are cooked through.

Slice the top of the hotdog buns, but don't cut all the way through. Sprinkle some grated cheese into each bun. Drizzle a spoonful of the desired sauce into the roll, top with a sausage then finish with an extra sprinkle of cheese and sauce.

Place the assembled hot dogs onto the barbecue, in the indirect cooking zone. Leave them to cook for 5 minutes over indirect medium heat or until the cheese has melted and the bun has toasted to your liking.

Serve immediately and enjoy with an ice cold VB Beer and good mates.