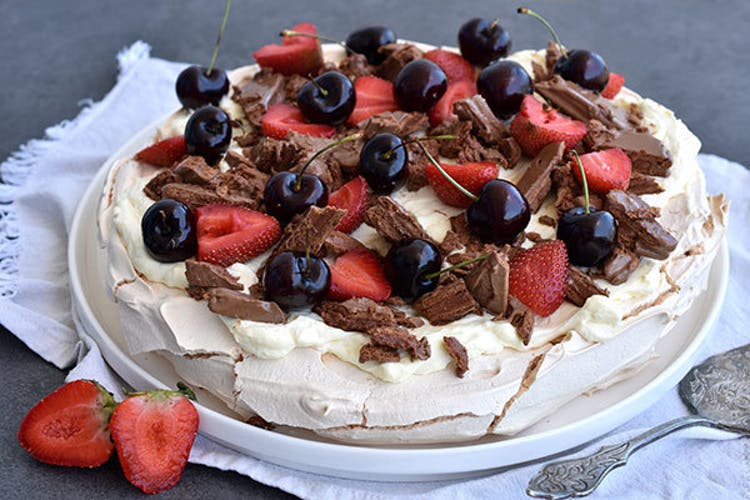 Back to All Recipes
WEBER'S PAVLOVA
Ingredients
6 egg whites

1½ cup caster sugar

1 teaspoon white vinegar

1 tablespoon cornflour sifted

2 teaspoons vanilla extract

500 millilitres thickened cream

2 tablespoons icing sugar

1 x 200g packet Tim Tams Original, roughly chopped

1 x punnet strawberries, hulled and halved

100 grams cherries
Instructions
Using an electric mixer, beat the egg whites over a medium speed for 3 minutes, or until soft peaks form.

While still beating, gradually add the caster sugar, a tablespoonful at a time. Once all the sugar has been added, beat until the sugar has dissolved. To test if the sugar has dissolved, rub a little of the mixture between two fingers and once you can no longer feel the sugar granules it is ready for the final ingredients.

While the beater is still running, add the vinegar, corn flour, and vanilla, and beat for a further 30 seconds to combine.

Prepare the barbecue for indirect cooking over very low heat (110°C to 130°C).

Line a baking tray or a pizza serving tray with baking paper. Spoon the meringue mixture onto the tray and shape into an approximate 25cm diameter.

Bake the pavlova over indirect very low heat, with the lid closed, for 1½ hours, or until the pavlova is dry to touch. Turn the barbecue off and leave to sit in the barbecue for at least 15 minutes.

While the pavlova is baking, make the whipped cream. Beat the thickened cream and icing sugar until firm peaks form. Cover and refrigerate until required.

Once the pavlova has completely cooled, top with the whipped cream, Tim Tam® pieces, strawberries, and cherries.