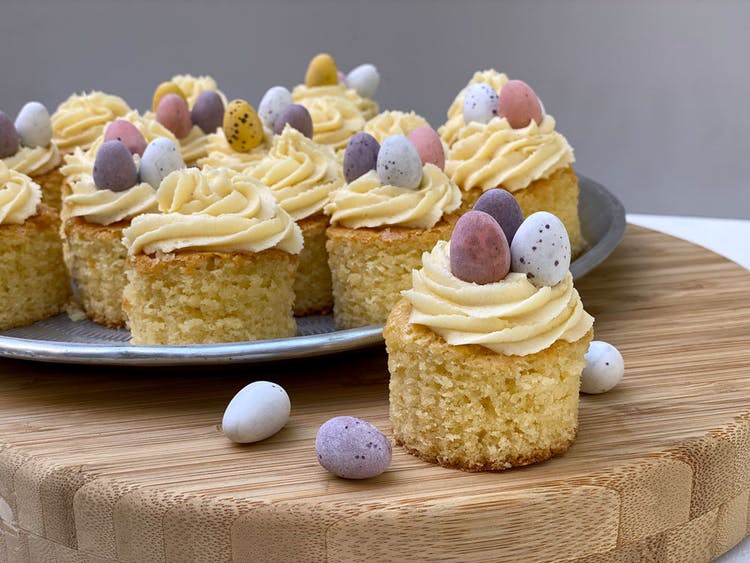 Back to All Recipes
WHITE CHOCOLATE MINI MUDCAKES
Your family and friends won't believe that you made these on the barbecue! A sweet treat, perfect for any occasion- even a great recipe to cook with kids.
Ingredients
200 grams unsalted butter

300 grams white chocolate

¾ cup milk

180 grams caster sugar

2 eggs

1 teaspoon vanilla extract

1½ cup plain flour

1 teaspoon baking powder

Cooking oil spray, to grease

Cadbury Mini Eggs, to decorate (optional)
WHITE CHOCOLATE ICING
50 grams white chocolate

90 grams unsalted butter, softened

½ teaspoon vanilla extract

1½ cup icing sugar mixture

2 teaspoons milk

⅛ teaspoon salt
Instructions
Prepare the barbecue for direct cooking over medium heat (180°C to 230°C). Add to a large Weber Ware Frying Pan the butter, white chocolate, milk and sugar.

Once the barbecue has preheated, place the frying pan with the chocolate mix onto the barbecue and leave to melt over direct medium heat for 5 minutes. Stirring with a silicone spatula every couple of minutes to prevent the white chocolate from sticking to the bottom. Once the mixture has completely melted, remove from the heat and pour the white chocolate mixture into a heatproof bowl. Leave the mixture for 5 minutes to cool. Wash and dry the frying pan.

Set up the barbecue for indirect cooking over medium-low heat (close to 180°C as possible). Lightly grease the frying pan with cooking oil spray and line with baking paper.

Once the chocolate mixture has cooled, whisk in the eggs, one at a time. Continue whisking, while adding the vanilla, flour and baking powder. Pour the batter into the frying pan.

Bake the cake for 30 minutes over indirect medium-low heat, until the top is golden and a skewer inserted comes out clean.

Leave the cake to cool for 5 minutes in the pan. Lift the cake out of the pan and leave to cool completely on a cooling rack.

Once cooled, use a 5cm diameter round cookie/scone cutter and cut small cakes out of the cake (keep the cuts close together to get the most mini cakes possible). Then set aside.

To make the buttercream; melt the white chocolate in the microwave, on 30 second bursts. Once melted leave to cool while continuing with the rest of the icing. Using electric beaters, beat the butter until pale. Add the vanilla, icing sugar, milk, salt and cooled white chocolate. Continue beating for 5 minutes, or until the buttercream is pale and fluffy.

Pipe the icing onto the mini mudcakes and if desired decorate with the Mini Eggs.
Tip:
These mudcakes will keep in the refrigerator in an airtight container for up to 3 days.